A Radiology Repository Front End like You've Never Seen Before
RadsCheck is an example of how powerful an application can be when it has access to RadsMap metadata. RadsCheck is designed to be the front end of an XDS-I style radiology registry as might be found in an HIE, or even in a large multi-facility hospital system.
RadsCheck can take thousands of procedures from multiple institutions and seamlessly present them in a normalized and interactive fashion, with a first-of-its-kind radiologic homunculus that allows providers to rapidly isolate procedures of interest with just a single click.
RadsCheck includes the patented RadsScore that numerically registers the amount of radiology a patient has received on a scale from:
000 – 999
The score range is population based in its distribution such that low scores equate to low overall radiology usage as based on radiation dose estimates, high value procedure counts, and the number of repeated studies.
What's the use case for a simple score such as this? As an example, if an Emergency Physician was about to order a CT ABD/PEL With and Without Contrast for a patient, an elevated Rads Score (ie. 923) should indicate the need for a further review of the patient's radiologic history. If it becomes clear that the patient has had numerous previous CTs of the ABD/PEL then a different imaging decision may be made.
The key is to make sure providers are aware of those times when a patient may have a substantial, and possibly grossly negative, radiologic history so they may make more appropriate decisions and a RadsScore makes that easy to implement.
With RadsCheck it's possible for providers to isolate studies on the basis of body region, modality, site, or any combination of the above.
RadsCheck also uses RadsMap to make intuitive relationships evident and point out other studies that may be similar or related or at least over lapping.
Radiology results can be seamlessly presented and, if desired, image data can be automatically accessed to allow for viewing or transfer of full DICOM image files.
All of this is bundled into one of the most efficient, intuitive, and beautiful UIs ever created for radiology.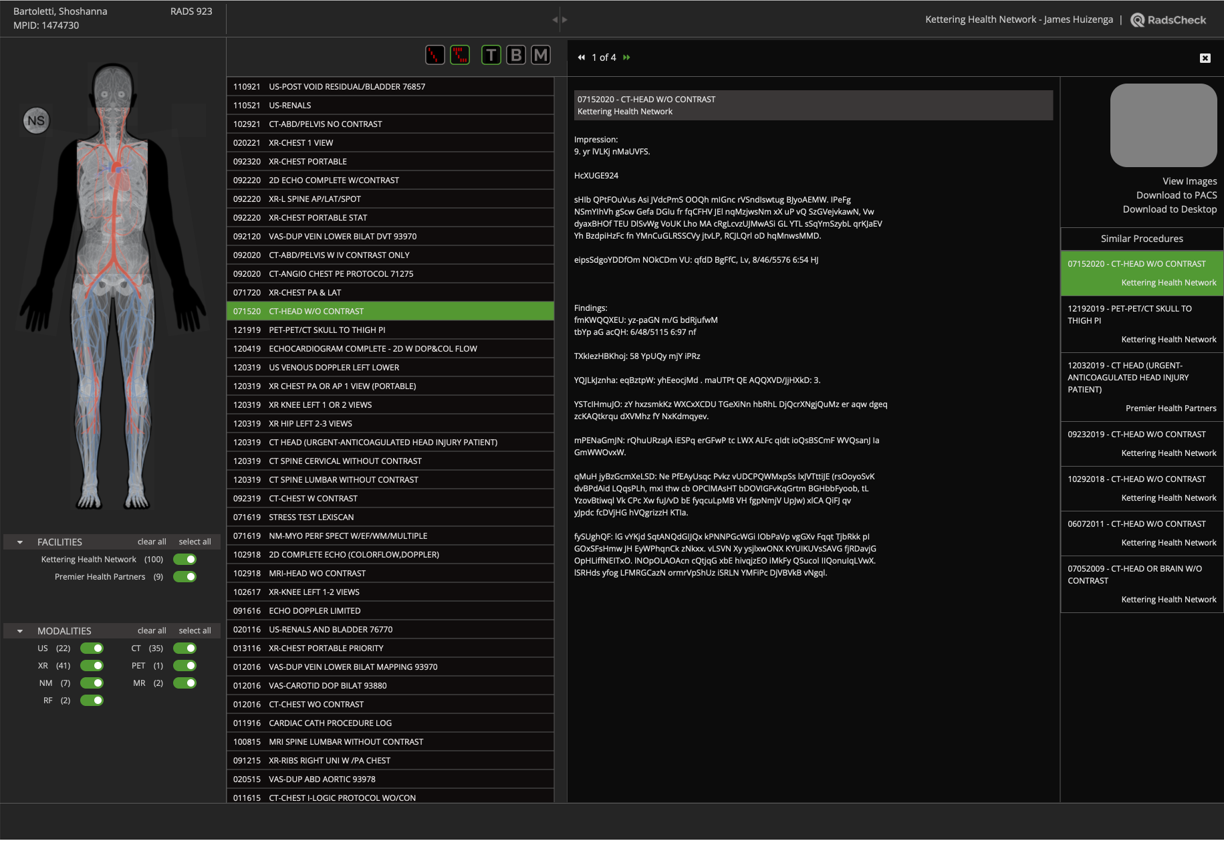 Learn More About Partnering with CliniCentric

If you would like to learn more about working with CliniCentric, and how you can help make your HIE's data a routine and valuable part of patient care, please complete the form below and we will be in touch.